Here are all the details you could ever want to know on what we brought, what we tossed along the way, what broke, and what we absolutely couldn't live without.
Sponsors
Bicycles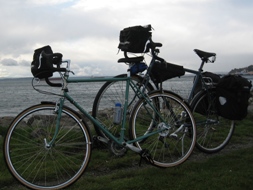 When choosing bicycles for this trip, we had three criteria: strong, simple, and comfortable. We wanted bicycles that we could ride all day and that we would spend relatively little time repairing and maintaining. The frame needed to be strong enough to handle loaded touring and have a long wheelbase so we could maneuver it with heavy loads. We looked for touring-specific frames with eyelets and braze-ons for attaching racks and fenders, instead of buying a road or mountain bike and modifying it for touring.

We ended up considering the Rivendell Atlantis, Koga-Miyata World Traveler, and Surly Long Haul Trucker. All three of these frames are designed for touring and the biggest difference among them is that the Koga-Miyata is an aluminum frame and the Surly and Rivendell are steel frames. There are varying opinions on steel vs. aluminum for a touring frame. Some claim that a steel frame is better because it can be repaired by a welder anywhere in the world, but others dismiss that as a myth. Sarah and I are both tall, and all three bikes in our size use 700c wheels instead of 26" wheels. Wheel size is another point of contention among the touring community. Some claim that 26" wheels are more common in developing countries and thus are easier to get repaired or replaced. In the end, we made our choice based on convenience and price. The Koga-Miyata was available only in Los Angeles and was hard to find in our size, so Sarah got a used Atlantis from Elliott Bay Bicycles and I got a Long Haul Trucker from Counterbalance Bicycles.

In outfitting the bikes, we again focused on durability and comfort. On a touring bike, wheels take the most abuse so we went with heavy-duty, hand-built wheels. Sarah has DT Swiss TK 7.1 rims and I have Mavic A719s. Both are laced to 36-hole Shimano Deore XT hubs. Both bikes also have primarily 9-speed XT drive trains with v-brakes for stopping power. In terms of gearing, we have a 26-36-48 up front and an 11-12-14-16-18-21-24-28-32 in the rear which gives us a minimum of 21.9 gear inches for those steep New Zealand hills and we went with Shimano bar-end shifters for their simplicity. Last but not least, Sarah has a Terry Butterfly saddle and I have a Brooks Champion Flyer.
Racks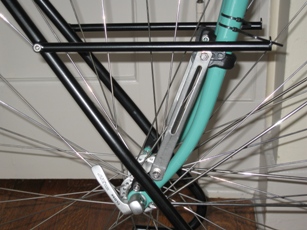 Sarah's Rivendell does not any have eyelets or braze-ons on the front fork for attaching a rack. Rivendell says they designed the bike this way because it doesn't reduce the strength of the front fork. In order to get a front rack on the bike, Bill Davidson built some struts and some custom mounts made from some old brake parts to attach the rack to the front fork. We were then able to get two Tubus racks on Sarah's bike. Since Tubus racks are universally regarded as the best steel racks around, I was going to get them as well, but the guys at Counterbalance put on Surly's Nice Racks instead. The Surly racks are extremely heavy and sturdy - even more so than the Tubus racks.
Panniers & Bags
No surprise here, we went with Ortlieb panniers. We got the Bike Packer Plus for the rear and the Sport Packer Plus up front. We heard these models were better than the roll-top panniers because they can be closed and are still waterproof when they are packed to the brim. I got a Jandd Handle Bar Bag and Sarah got the Topeak TourGuide. We both have Jandd Frame Packs. We got everything in black because that's how we roll.
Jandd Handlebar Bag Review
This bag is nice and roomy - we can even fit our laptop into it! The mounting bracket is very sturdy and getting the bag on and off the bike is a breeze. It is a bit difficult to mount the bag initially so it is horizontal; it involves adjusting three nylon straps, mounting the bag to test, and then readjusting as necessary. Our biggest gripe with the bag is that Jandd claims the bag is "stormproof" but after about 10 minutes of rain the bag becomes very damp. Not good when you are storing your camera, journal, and other delicate items inside! The other problem with the bag in the rain is that the map case instantly becomes fogged and wet inside. This makes the map unreadable and soggy!
Topeak TourGuide Bag Review
Sarah's bag is fairly small and to make matters worse it has much less room inside then you'd expect when looking at it from the outside. Inside the bag, there's a ton of unnecessary padding. The padding also gets wet in the rain and is very slow to dry out, resulting in a smelly handlebar bag. The clear map case on this bag is not sealed, making it useless in the rain. To make matters worse, the carrying-handle on the bag blocks your view of the case when riding. The bag does come with a yellow waterproof shell that you can put over it when it starts to rain, but unfortunately this shell doesn't actually repel water at all! The bag gets just as soaked under the waterproof shell as it does without it.
Tires
I have 700x32c Panaracer T-Servs, which are a little different than the 700x32c Panaracer Pasela TGs that Sarah has on her bike. We've heard varying opinions from the touring community on tires. Some people swear by the Schwalbe Marathons or the Continental Top Touring tires. Those tires seem to be preferred by people who value puncture resistance over comfort. The Panaracers are supposed to be very comfortable tires that also have decent puncture resistance.
Panaracer Tires Review
We had an extremely bad experience with these Panaracer tires. Only 30 kilometers into our trip on our first day, Sarah's front tire flatted and we realized she had a huge cut in the tire. The tire was already trashed! We replaced it with a Vittoria Ranndoneur. Then at 2500 kilometers, my rear tire developed a strange, double-humped bulge. Finally at 4000 kilometers a third tire was cut by some glass and we didn't feel comfortable riding on these tires anymore so we switched over to 700x40c Schwalbe Marathon XRs that we ordered online from Wallbike and had shipped to Bangkok.
Notable Spare Parts, Tools, and Accessories
1 700x32c Panaracer Pasela TG Folding Tire

1 Topeak RoadMorph Pump

Topeak Modula XL Bottle Cages
Tent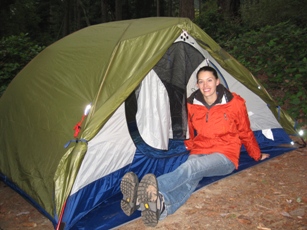 Our tent is a Mountain Hardwear Haven 3. Sarah did a lot of research on what kind of tent we should get for the trip and she came up with the following.









Even though we are only two, a three-person tent would be the minimum size to use since we will be living in the tent with our gear for a year.

The larger the vestibule the better. With a spacious vestibule, we can cook under it if it is raining and keep our bikes under it for safety and protection from the elements.

We wanted a superlight tent that we could set up easily without stakes and that had a natural color in case we need to free-camp somewhere.
The Haven 3 met all these requirements and is pretty light at 6 lbs, 9 oz. We also got the gear loft to make living with our gear and each other easier.
Sleeping Bags, Liners, and Pads
We also have Mountain Hardwear sleeping bags. Sarah has the Women's Phantom 15 Long and I have the Phantom 32 Long. We have silk liners so we can get into them when we are dirty without having to worry about washing the down bag afterwards. We also have the REI Trekker Self-Inflating Pads. We were originally going to go with the ultralight model but got some advice that the weight savings is definitely not worth the reduced comfort.
Cookwear
Our stove is the world renowned MSR DragonFly. This stove is designed for international travel and runs on white gas, kerosene, unleaded auto fuel, diesel, and jet fuel. We have two 22 oz fuel bottles that will fit in our bottle cages and an expedition service kit so we will not be going hungry on this trip! We have a GSI Cook Set along with a GSI Tea Kettle and two Starbucks Barista Thermal Travel Presses for our caffeine addiction.
Other Notable Camping Gear
WhizAway Whiz Freedom Review
Only one word can describe the WhizAway: amazing. This is one piece of gear I'd actually cry if I lost. It is a flexible purple plastic funnel that a woman can hold against her crotch and pee standing up like a man! It is amazing for road side pit stops, nasty dirty squat toilets, and for peeing into a bottle if circumstances require. It is fairly small and made of rubbery plastic so it is easily shaken dry and folded up for easy storage. I really couldn't live without this!
Petzl Tikka Headlamps Review
These headlamps were a surprise hit in the useful gear category. We weren't originally going to bring these but ended up getting two and are so glad we did. They're perfect for setting up or taking down a campsite in the dark. Everything you look at is instantly illuminated by the headlamp, and you almost forget it is dark out. They're also perfect for reading in the tent at night. After using the headlamps, we cannot imagine trying to read while holding a flashlight!
Notable Clothing
Patagonia Wool 2 and Wool 4 Shirts

Löffler Cycling Underwear
Patagonia Wool 2 and Wool 4 Shirts Review
We absolutely love these shirts. They are great as a layer in cold weather, but the Wool 2 is amazing on its own in hot weather because it is so light and breathable. You can also unzip these shirts at the neck if you get too warm. The natural anti-odor properties are astounding; you can wear one for a week straight and it will still smell fresh and clean! In New Zealand, I literally wore my Wool 2 day and night for a couple of weeks straight (check out our New Zealand pictures) and it did not smell. We fell so in love with these we were fantasizing about a complete outfit made out of the Wool 2 material. The only negative is that the shirts are a bit delicate and ours have developed a series of small pinprick holes, but they are still very wearable.
Notable Health and First Aid Items
Four month supply of Malarone for the malarial regions in which we traveled

Azithromycin for diarrhea or bacterial infection

Tamiflu for Avian Flu

Chlorine Dioxide Water Purification Tablets

We have been immunized against MMR, Polio, Hepatitis A/B, Japanese Encephalitis, Typhoid Fever, Diphtheria, Tetanus, and Pertussis

We were insured through World Nomads
Laptop
Our laptop is an Averatec 1100 ultra-portable 10.6" widescreen notebook. When looking for a laptop, size and weight were of utmost importance but we didn't want to sacrifice on speed and power either. We considered laptops from various manufacturers and the Averatec 1100 series seemed like the ultimate laptop for extended bicycle touring, so we were extremely pleased when Averatec agreed to sponsor us on this trip and provide us with a laptop. Our 1100 is extremely light and compact at 3.4 pounds, but packs a punch with a 1.1Ghz Intel Pentium processor and 1GB of RAM. We were also very happy to have an 80GB hard disk drive and a DVD burner so we can take a lot of pictures and burn them to DVD for safety and storage.
Camera
We carried a simple point-and-shoot camera, a Canon PowerShot SD550. We considered bringing a digital SLR, but decided against it due to the price, weight, and the worry of it being stolen.
Radio
Based on advice from multiple bicycle tourists, we decided to bring a shortwave radio on the trip with us. We purchased a Grundig Mini 300 Shortwave Radio to stave off boredom on those lonely nights on the road.