Once you start researching bicycle touring, you will find there are many sites dedicated to touring or documenting bicycle trips around the world. Here are some of our favorites. Most of these sites also have a resources page with links to other great sites that we are still discovering ourselves!
Books
Sarah is an avid reader and has read many books about cycling adventures. Here are some of her favorite books about cycling tours. If you purchase any of these books through the Amazon links on this page, we get a small kickback from Amazon. Thanks!
Bike Shops
These are the bike shops that have helped us on our journey. Whether it was supplying us with a bike, helping us with a repair, or giving us some much needed advice, we couldn't have done it without them.
Going Slowly: Bicycle Touring around the World
Tara and Tyler are world touring in 2009 and their site is nothing short of amazing. We discovered this site after we completed our trip and these two have really taking the bicycle touring website to the next level. Beautiful photos? Check. Fascinating stories? Check. If you want to be amazed, check out what Tara cooks on the road! Their site would be a must-read for the recipes alone. We love this site!
Mark and Juliette McLean's Homepage
This is probably our favorite bicycle touring site. Mark and Julie did a tour in 2002 that spanned 2.5 years, 15 countries, and 24,000km. Their site has a lot of very useful information on gear, routes, and money and their site was very helpful in planning our trip.
Eric and Joan's Excellent World Trip
This is a great site with a funky layout. Eric and Joan quit their jobs in 1997 to bicycle and canoe around the world for 26 months. The best part of this site are their diary entries which are extremely detailed and entertaining. We're not sure why they haven't written a book yet!
Isa et Terry Cyclotouring
Isabelle and Terry did a 14 month trip from England to New Zealand in 2005 and 2006. Their website is very entertaining; our favorite part is the country by country cheese reports!
14 Degrees Off the Beaten Track
Rob Thomson rode a recumbent bicycle 12,000km from Japan to Switzerland in 2006. His site is beautifully designed and his journal entries and pictures are extremely interesting. As if his bicycle trip wasn't enough, Rob then continued on his journey via sailboat and skateboard!
Vagabonds by Volkswagon and Recycled Bicycles
The VW Vagabonds toured the world in a VW bus and hadn't had enough when they were done so they decide to tour by bicycle. They toured the west coast of the US (including our hometown of Seattle) and then spent a year in Southeast Asia. Make sure to check out their excellent Cycling Tales.
Down the Road
This site is the #1 result for most search engines for "bicycling around the world" and it is packed with information. Tim and Cindie have detailed information on routes, planning, gear and anything else you could want. The design of the site can make things hard to find, but this site is one of the most comprehensive bicycle touring sites out there.
Crazy Guy On A Bike
Crazy Guy On A Bike is like LiveJournal and CraigsList rolled into one for the touring world. The site has journals, reviews, classifieds, and discussion forums. There are so many journals being hosted here it is overwhelming, but the site is a great resource if you want to find detailed information on doing a tour in a specific part of the world.
The Adventure Cycling Guide
The Adventure Cycling Guide is a great how-to site on bicycle touring. It contains information on bicycles, gear, planning, and everything else you could want to know. Definitely read this site if you are thinking about doing a tour.
The Internet Bicycle Touring List
This discussion list on touring with searchable archives is really great and contains a lot of useful knowledge.
On Your Bike Forum at Lonely Planet
This forum is heavily trafficked and you can get some great advice on touring in general or a specific locale here.
Touring Forum at BikeForums
This forum has also been very useful to us for everything from how to attach a kickstand to what areas of the world are too dangerous to cycle in.
Fully Loaded Touring Bicycles
Last but not least, if you are bored, daydreaming about your next tour, or just weird, this gallery of fully loaded touring bicycles can be a great time killer.
---
Books
Miles from Nowhere - Barbara Savage

This is the first book I read about bicycle touring and the inspiration for our trip. Barbara and Larry Savage, a young couple living in California in the 70s, were unhappy with their monotonous lives and started dreaming of riding their bikes across the United States. After some deliberation and early planning, their trip idea grew and they decided to bicycle around the world for two years. They're not especially experienced cyclists, especially Barbara, which made me love the book even more. They run into plenty of rough times, and make plenty of idiotic decisions, along the way. For example, in Tibet Larry is feeling sick and falls behind on a mountain pass. Instead of sticking with him and helping him along, Barbara and their mutual cycling buddy forge ahead to get the hotel and food arrangements set for Larry. Meanwhile, he is so sick that he actually passes out on the side of the road and only wakes up a few hours later when a passing local finds him. He makes it to the top of the mountain pass just as night is falling. This is just one of near-death experiences they have on their trip. The writing style of the book is a little folksy at times, but the story is one of my favorites.
A Bike Ride: 12,000 Miles Around the World - Anne Mustoe

This is another inspiring around the world cycling book. One of the main reasons I enjoyed this book it is that the author is an English headmistress in her 50s. Like Barbara Savage, Anne Mustoe is not an avid cyclist, but decides that the slow mode of travelling via bicycle will be a perfect fit for the type of trip she wants to take. She gives up her job and takes off on her bike following routes of historical significance across Europe and Asia. Anne has amazing, positive outlook on life, and speaks of even her most difficult situations with a good dry sense of humor. She's also clearly taking this trip to have fun and enjoy herself, which she displays by taking it easy when she wants to, enjoying good food and a cold beer every night, and skipping over parts of her original itinerary that end up being ridiculous to attempt via bicycle. Anne even (amazingly) completes her entire trip without ever having to repair her bicycle. She always manages to find someone to help patch a tire, repair a spoke, etc. That's not our plan for bicycle repair, but it was a nice refreshing way to read about an around the world cycling trip!
The Road That Has No End - Tim Travis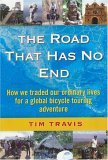 This is another book about a couple who quit their jobs, sold everything they owned, and took off to ride their bikes around the world. Sound familiar? This book is much more recent than Miles from Nowhere, which was written in the 70s, and I was excited to read a more recent book about the realities of bicycle touring today. Tim and Cindie Travis began their trip in 2003 from southern Arizona and their book covers their bike ride across Mexico, Central America, and South America. The writing style is mostly short declarative sentences and is low on descriptive detail, but the real life information & detail on how they saved their money and planned for the trip over 5 years is very interesting. This book doesn't make a bicycle tour sound easy, and I found myself paying close attention to the everyday frustrations, discomfort, and challenges they faced each day. Tim and Cindie are still travelling currently and they plan to write several more books documenting their trip. They are maintaining a website at www.downtheroad.org.
Lone Traveller - Anne Mustoe

This is another book by Anne Mustoe, the English headmistress in her 50s who decided to begin an around-the-world solo bicycle tour out of the blue one day. Lone Traveller is my favorite of her books and is number two on my list of must-read books if you're thinking about doing a bicycle tour and are curious about the details. Anne wrote this book in response to all the tactical everyday how-do-you-do-it type questions she's been peppered with over the years and the book follows her on a trip through South America and Asia. I loved reading her descriptions of the good and bad parts of a bicycle tour and her ways of dealing with all the issues that arise. She has one chapter on The Good Days which describes why she loves bicycle touring so much and another on The Bad Days which include things like getting lost, awful weather, searching for a place to sleep in vain, mechanical problems, riding bad roads, and being sick. The names of the chapters alone should be enough to make you want to read this, with titles like Men and Other Animals and Terrible Terrain I, II, and III.
Two Wheels in the Dust - Anne Mustoe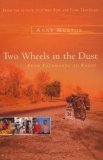 Two Wheels in the Dust is Anne Mustoe's third book and it is quite different from the first two. It takes place entirely in India as Anne traces the path of a classic Indian tale - the Ramayana. The chapters in this book alternate between the actual Ramayana story, characters, and events, and Anne's journey to visit those places to see the monuments and landmarks from the tale. I thought it was interesting to hear a chapter of the classic fairy tale, and then journey with Anne as she attempted to follow in the footsteps of the characters. Even though this book is less about logistics of touring and more about Indian folklore, it is still a very good read.
Beyond the Sky and the Earth - Jamie Zeppa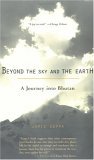 Beyond the Sky and the Earth is not about bicycle touring, but about giving up an old life in search of something new. The main character in this book leaves her comfortable and planned out life in the US to teach in Bhutan for one year. She is shocked by the utter change in lifestyle when she arrives. No electricity, no running water, no grocery stores, and beans with hot peppers for every meal of the day. She feels herself and her way of thinking change as she becomes accustomed to this new way of living, and begins to view her choices and opportunities in a new light. I really loved this story and couldn't put the book down.
A Blistered Kind of Love - Angela Ballard

A Blistered Kind of Love is an adventure book about a 20-something couple, Angela and Duffy, who have recently started dating and decide to hike the Pacific Crest Trail from the Mexican border up to Canada. They alternate writing chapters, which means you read opposing perspectives as they hike along the trail. Angela & Duffy are quickly sucked into the competition involved in hiking the trail and become maniacal about hiking as fast and as far as possible. They obsess over passing other hikers, catching people they know who are on the trail ahead of them, and optimizing their ultra-light packing strategies. It is funny to read about the fights they get into along the way. For example, Duffy freaks out on Angela for eating too much of their food, and they argue about inconsequential details like the length of their strides among other things. They survive in the end though and end up getting married after they complete their trip.
---
Bike Shops
Counterbalance Bicycles - Seattle, WA
Adam and Peter at the shop were extremely helpful in outfitting James with his Surly Long Haul Trucker, giving us advice on what type of parts to bring, and teaching us how to repair our bikes on the road.
Elliott Bay Bicycles - Seattle, WA
When we first started planning this trip, Sarah's biggest concern was that she wouldn't be able to find a bike that fit her properly. Bill Davidson at Elliot Bay Bicycles was able to put her fears to rest by outfitting a Rivendell Atlantis for her that Sarah says is the most comfortable bike she has ever ridden. Bill has a lot of experience outfitting touring bikes and he built Sarah a sturdy, beautiful bike that she loves to ride.
Wallingford Bicycle Parts - New Orleans, LA
After 2500 kilometers, we were ready to give up on our Panaracer tires and were in the market for some Schwalbe Marathon XRs. We couldn't find them in Singapore or Bangkok, so we decided to have them shipped from the United States. After a couple of emails with Bill at Wallingford Bicycle Parts, our new tires were on the way. It couldn't have been easier. The service and selection was great and shipping costs weren't too bad either!